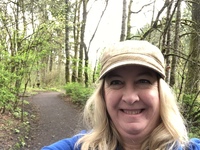 Looking for Collard Green Recipes
I have a sprawling tree collard plant in my garden that a roommate planted about 3 or 4 years ago. The picture is of only one of the offshoots. No matter how much I harvest it seems to grow exponentially more. I didn't grow up eating collards so I only have a few recipes and am hoping some people can share some of their own recipes or creative ideas for this leafy green.
Wow that's a beauty. I just made a pot of greens a few days ago they are great reheated. I use greens, apple cider vinegar, onion, garlic power, salt, chicken stock, a dash of tobasco and a scoop of bacon fat. You can add bacon, ham, hammocks or smoked turkey if you want meat. Boil until desired doneness. I like mine a little al dente but my grandma used to cook the life out of them and those are hood too.

Also, you can blanch those leaves and use in place of some kind of wrap OR make a green lasagna in place of noodles. Yum!