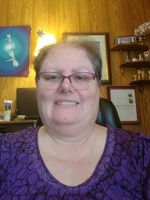 Middle of week 3 - Haning in there!
Today marks the middle of week 3. Beginning to slow on the weight loss. Still loosing however. Hubby has come around and is learning to try different things with an open mind. He has lost 10 lbs. thus far. I am down 12.8. I have been using the keto strips to test my urine and I am between 1.5 and 4.0 of the optimum weight loss scale. Together, he and I have cleaned out all the cabinets and cubbards of foods we can no longer have and stocked up with things we can. Now to just get him to understand portion sizes. We are starting to make meal plans for the week so there is no guess work as to what is for dinner. I am having trouble adjusting to the taste of the almond flour on things. We made onion rings in the oven tonight and I couldn't get past the almond taste. The almond flour is more like the texture of cornmeal than flour. Only ate about 1/2 of a serving. We found some wraps at Publix that were pretty good. Folios parmesan cheese wrap. Used them to wrap our grassfed all beef hot dogs in with mayo, mustard and onion.
The road to this point has been interesting to say the least. My sugar has steadily been coming down, this morning it was 109, hasn't been that low in six years. My energy is a bit better than it used to be. So all in all, I am pleased with the way things are going.