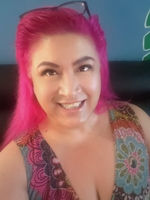 Down exactly 50 lbs as of today!
Had to share my joy - down exactly 50 lbs as of this morning, WOOT!!! Most of it this month, actually after doing some analysis and making some tweaks:
AUG = 14 lbs
SEP = 10 lbs
OCT = 26 lbs
Might be hard to see in the pic, but before, this dress was "fitted" to my body and now it just hangs off of me.
IT CAN BE DONE!!!!!!!!!
Robbie Oh, so many things!!! I do 10 minutes of Qigong breathing exercises and 10 minutes of full body tapping in the AM; hula hoop for 30/45/60 minutes; jump on my little trampoline for 20 minutes; recently incorporated EFT tapping; listen to subliminal/binaural music during the day and hypnosis stuff while I sleep (my latest playlist includes gastric-band hypnosis, OMAD, Keto stuff, etc.); fast for varying periods; try to stick to clean keto as much as possible; I mean, I'll try pretty much anything at this point! I lost 70 lbs with WW several years ago over a longer period of time, but I got tired of counting calories. For whatever reason, keto comes pretty easily to me and I don't find it as difficult as I thought it was going to be.