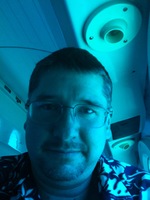 Loosing a Pound a Day, How is this Possible?
I am amazed how effective this weight loss is. I was surrounded by people telling me I look great and I was convinced that I was gaining muscle, lol. When the scale reached 241 on January 9th and my blood work showed an A1C of 6.1; pre diabetic! I knew something was wrong! I began doing intermittent fasting and then I discovered the Keto plan and now I'm loosing almost a pound a day!
i have struggled so long with my weight; could it really be this easy? I think to myself why aren't carbs illegal; as so many health problem are caused by the junk high carb food marketed to us everyday!
Today I weigh 221, I have lost 20 lbs since January 9! I feel wonderful!
Keto 4 life !
First let me offer Huge Congratulations! Your story and mine are so similar! For the first couple weeks I lost a pound a day. Thrilling isn't it? Now the excess weight is coming off more slowly. I understand initially it may be water weight, which is why one feels less bloated. But happy ketosis to you my friend. May your Keto success continue uninterrupted. 😎

Had to laugh at "why aren't carbs illegal?" I suspect you're referring to highly refined processed junk food, since fruit, veggies and grains all are loaded with carbs. But I get your point. Alot of the junk carbs are considered American staples, even marketed to children! And few of us want the government to attempt to mandate healthy habits. Think of the pushback on attempts to ban or prohibitively tax sugary sodas!

Until its widely understood that Sugar is killing us, even the sugar from the digestion of carbs in our diet, I'll just smile and pass on the commercially baked goods and instead order an extra side of bacon.